Thursday 14 August until Sunday 19 October 2014
'By simply surfing we are supporting the revolution.' - Nat Young.
Arcadia is an exhibition of lyrical, richly-textured photographs by John Witzig, co-founder of Tracks magazine and founder of SeaNotes, with huge ink drawings by Nicholas Harding and psychedelic film footage by Albert Falzon. Imbued with a Romantic conception of the awesome and spiritually restorative force of the sea, it expresses the free-spirited, revolutionary character of a group of young and perfectly-formed Australian surfers in the early 1970s.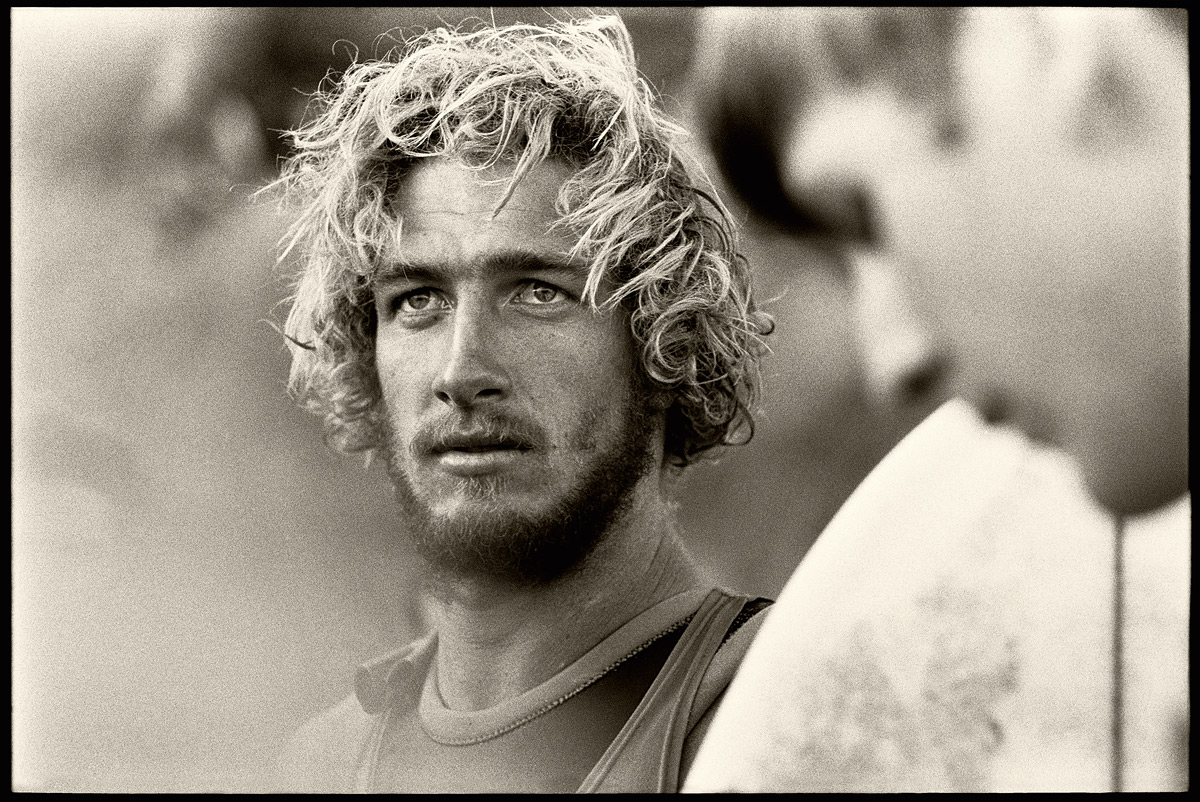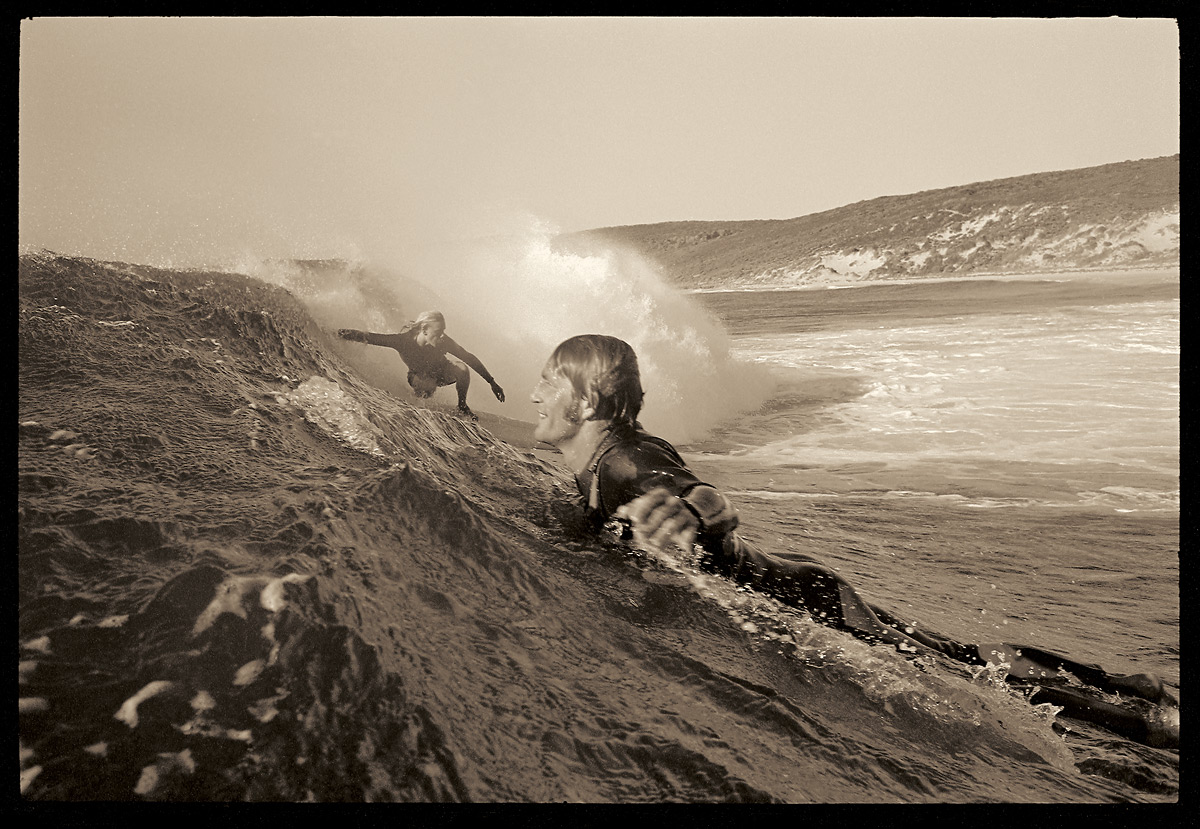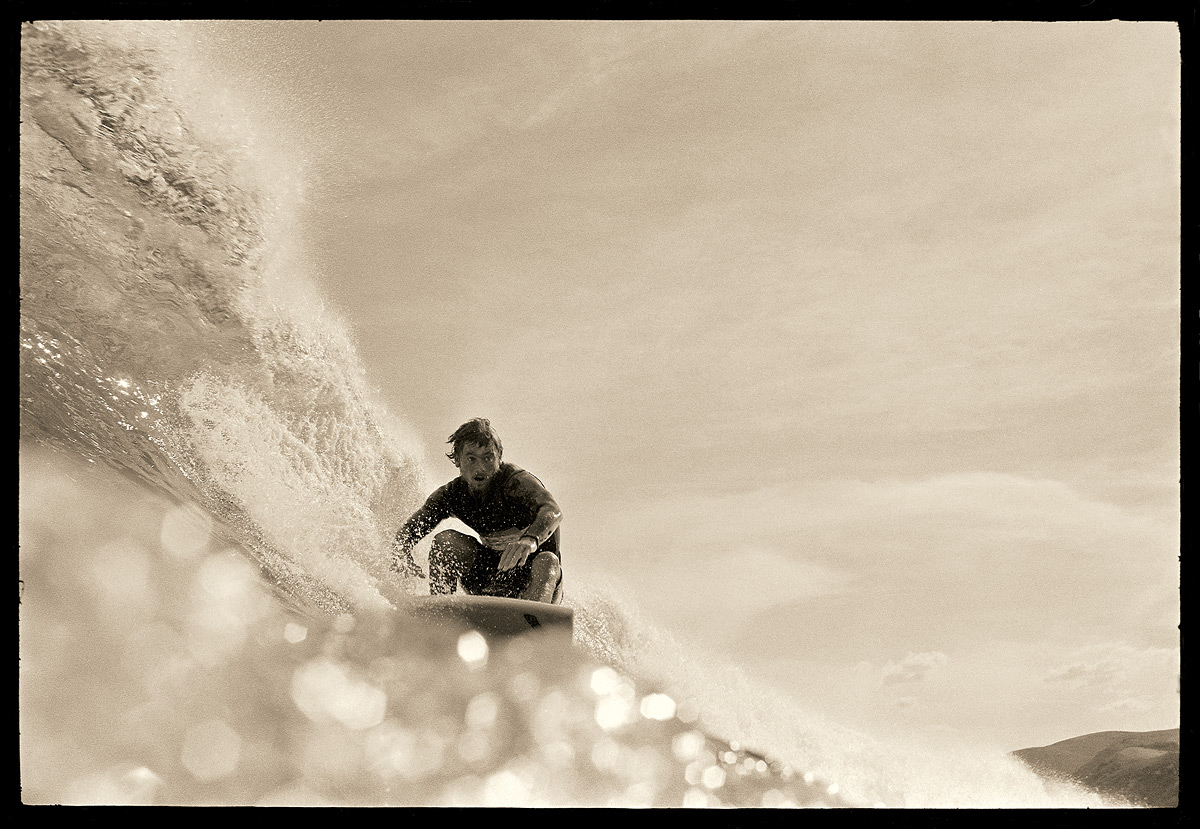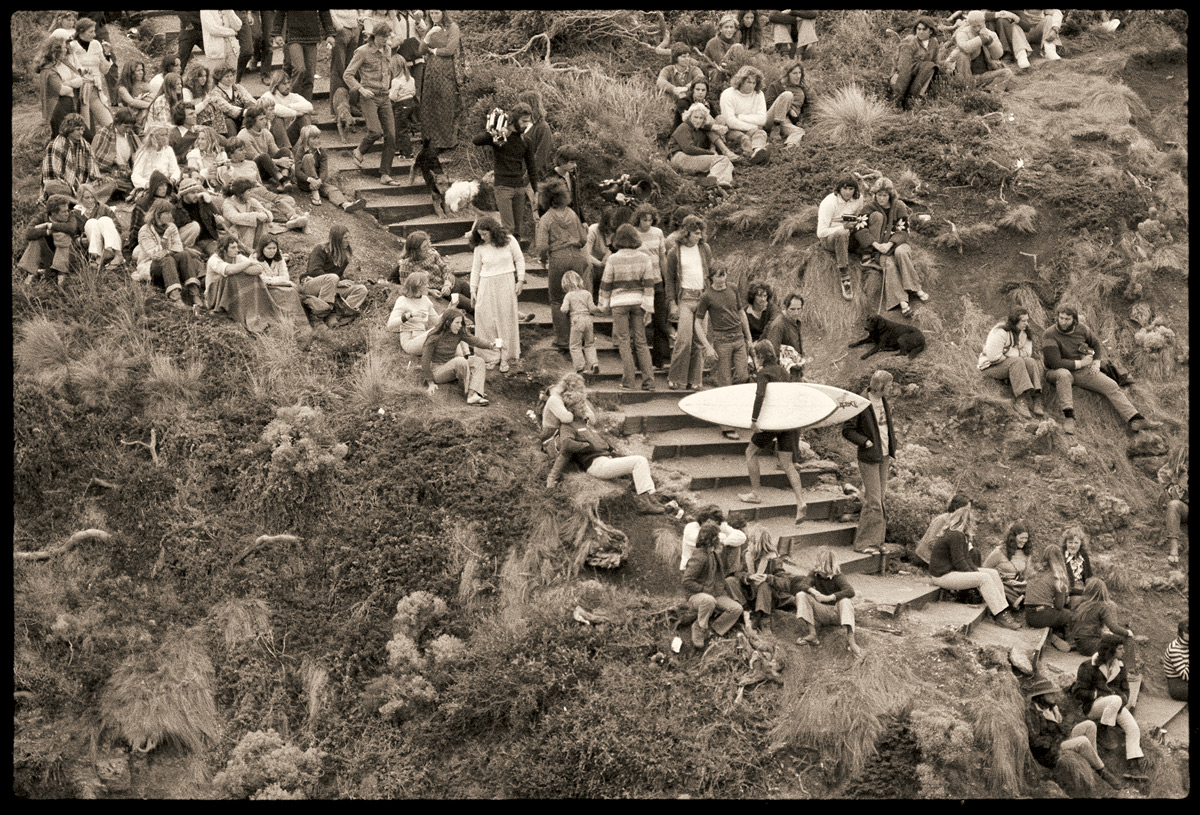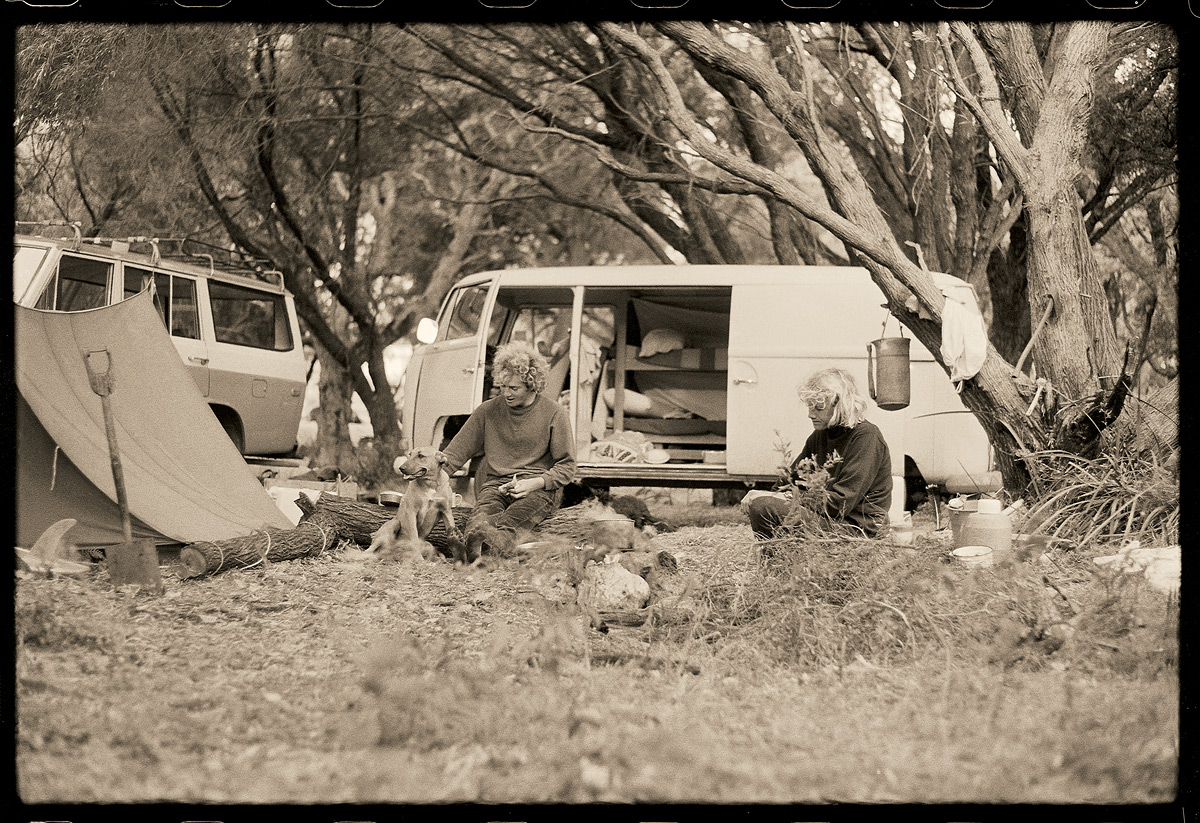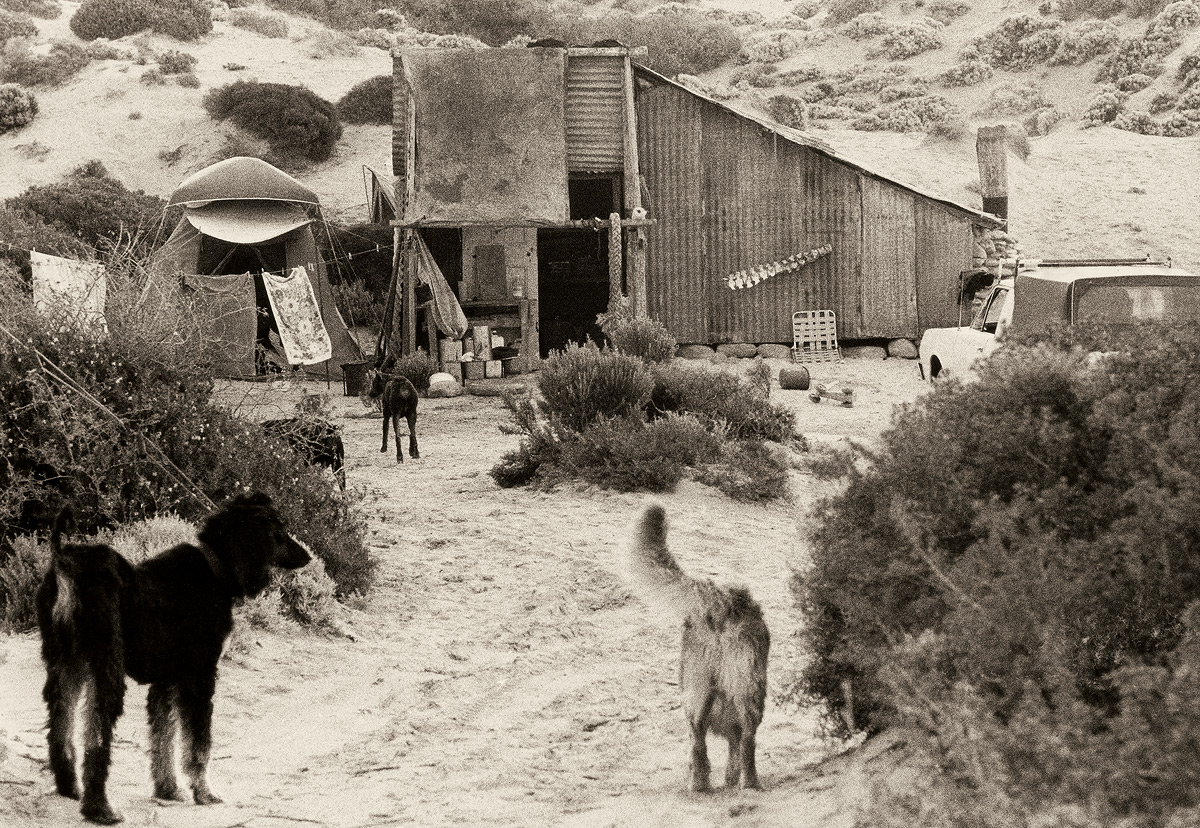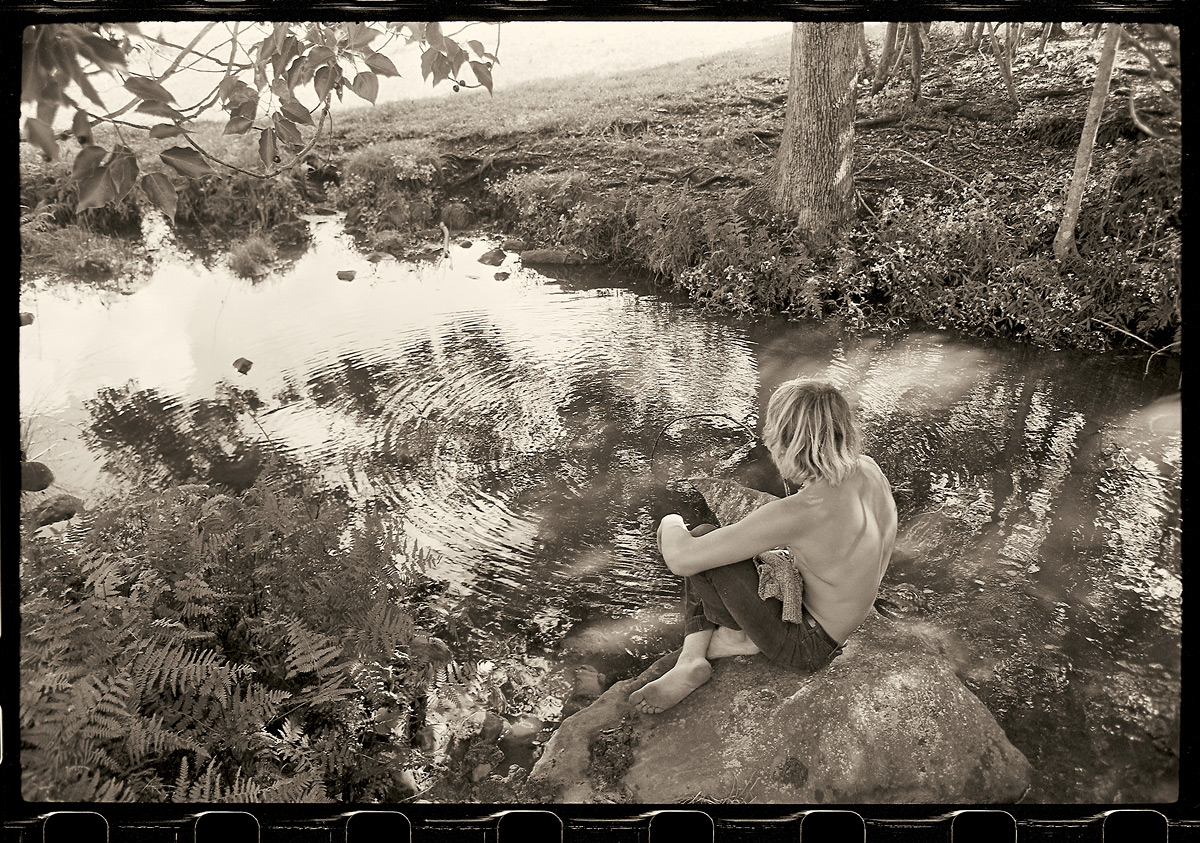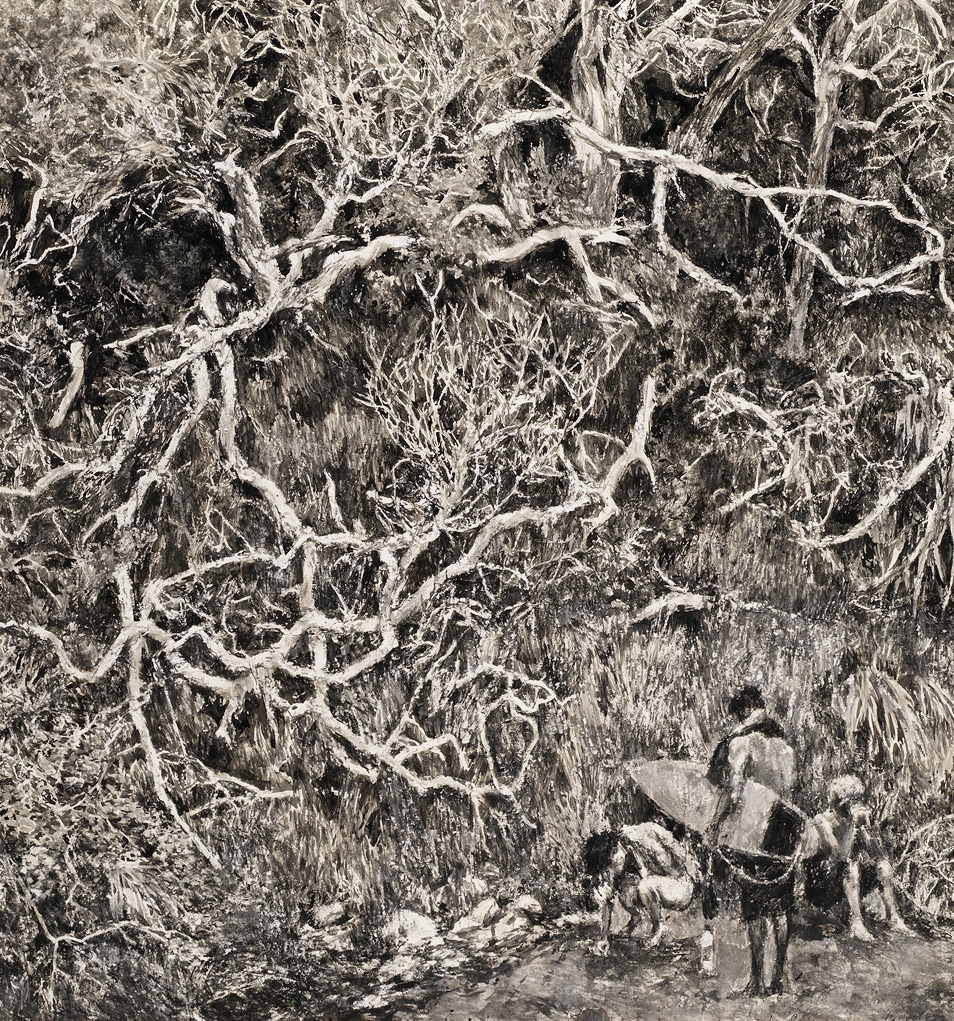 John Witzig's 'Arcadia'
A chat in the photography studio
National Portrait Gallery, Canberra
Mark Mohell: Welcome. My name's Mark. I work here at the National Portrait Gallery and today we're talking with John Witzig regarding the development of the 'Arcadia' Exhibition which is going to be here soon. First of all I'd like to start off and to talk about the technique you use to sort of catch the, like Mark Richards. But you've got a unique style which comes across quite a few of the photographs in the exhibition where you're really close to the action. It's just amazing the way you've captured the – the hands and also the facial expressions.
John Witzig: I'd like to be able to claim some credit for this and it's complete serendipity to tell you the truth. I was not looking through the viewfinder of this camera. It was a little Nikonos underwater camera which had been originally developed by Jacques Cousteau and then Nikon bought it. It had a fixed 35mm lens which everything was sharp as a tack, business you had to get extraordinarily close. I mean Mark Richard in this picture will be literally, not maybe a metre away from me. The technique I developed was you couldn't sit a surfboard because you were too far away, you couldn't even be on a map because basically you were in the breaking zone of the wave. So I just swam with flippers. I got really close. I think it's just a splendid composition. Everything' right about it quite frankly – his hand, the spray, the way the white water curls, just down on the right hand corner just inside the edge of the frame there's a guy paddling out. It's all bloody perfect and I – almost I had nothing to do with it, other than being prepared, getting myself in the right position and then trusting to luck.
What I like about that picture is that it shows very much what it feels like to be out in the water to me, and the Nikonos was brilliant at that. Because it had a wide-angle lens you got the ocean, you got the character of the ocean and then you got the landscape in the background. This is in Western Australia, south-west corner of WA where it's all a National Park. So, we've got a beautiful sort of virgin landscape and the ocean is just – I find the ocean to be an endlessly fascinating subject.
I was the editor of various magazines at the time. I wasn't just a photographer, I – because we were all total amateurs really. So we – we edited the magazines, we designed them, we took the pictures, we wrote the stories, we went and sold the ads and we wrote the ads for heaven's sake as well.
When I was the editor I wanted pictures which told me something about the world that these people – and they were friends of mine who were living in. I think it was just natural – my natural inclination was to photograph my own world to some degree, but also to photograph a wider thing than just what was happening out in the water.
Now they're being looked – looked at through a sort of social documentary prism which is interesting and I can certainly appreciate that and I quite kind of like it. It makes me look at pictures in a different way. And I love – I love the process, literally what we've been going through and looking at pictures, doing proofs, doing proofs on the same – it's not a press, but a printer which is going to print the actual thing. So we know the result we're going to get. That is such a luxury. I've never in my life had that luxury before.
This is me being proud. Sorry, don't want to wreck it.
Mark Mohell: Put that away and just finish up those last couple.
John Witzig: We got those – those too. Okay. The hero picture.
Mark Mohell: Arcadia.
John Witzig: Okay well, the – the tones through these areas are absolutely clearly, but I just found this a little bit dead.
Mark Mohell: That's right. It definitely looks muddy through the shadows.
John Witzig: Yeah.
Mark Mohell: And that definitely has brought it out more.
John Witzig: Yeah. This particularly – I don't care so much about this extreme edge, but through this area and the two figures is absolutely crucial. So, I'd say that's pretty good.
Mark Mohell: Okay. So John, how have you found the process from going from traditional photographic techniques from when you were actually printing this work and to this exhibition where we're looking at a different scale, we're actually looking at blowing quite a lot of these images up to about two metres?
John Witzig: I'm still apprehensive, I tell you, even though – you know – you've shown me – you know – strips of what we're going to get. I'm still apprehensive about it, to tell you the truth, but there were a couple of pictures and this is – this is one example where I have published that, what 300mm – 200mm wide, maybe 150mm wide and now it's going to be, what 900mm wide? A bit more. But, the point is we can look at it on screen, you can show me, we can muck around with it, you can do me a strip print which is going to show me actually what the grain is going to look like, so to me that's been exciting and it also means going back into the archives and just an exercise in nostalgia. It's sort of a contemporary experience in that you're looking at pictures in a different way.
Now, it is a document of my life. It's a document of the lives of the people I hung around with, that I travelled with, that I surfed with, and I'm – quite frankly I'm sort of pleased with it as – as that. I think it's quite a nice document to tell you the truth.
[End of Transcript]